8 Best Neutral Paint Colors To Sell Your House Fast
Curious what the best neutral paint colors are to sell your house?
After working with quite a few homeowners, realtors and house flippers, I've learned a lot about what colors, sheens and approaches will help you sell your house faster.
What I've also learned is that most people who are selling their home tend to have a "tighter budget" vs people who are moving into a new house.
So, in this article, here's what I cover:
Little Known Ways to Reduce Painting Cost (when hiring a painting company)
9 Best Neutral Paint Colors To Sell Your House Fast (14 Examples)
How to get a professional color consult for free
Let's get to it! :)
Little-Known Ways To Reduce Painting Cost and Improve Efficiency
When you are painting your house to sell, your goal is probably to get a quality job and at a great price.
Right?
I say this because it's likely you don't want to spend a fortune painting a house you are going to move out of anyways, so if you're hiring painters, here are 6 little-known ways you can get a much lower estimate and still get great work:
Paint the walls and ceiling same color and sheen: when you paint the walls and ceiling the same color and sheen (white, grey, beige) you can cut quite a bit of material and labor cost. Painters won't need to mask and top off the ceiling and the walls and can complete the area all at once.
Do all the painting work at once – don't split it up: This will reduce setup and fuel costs for the painting company.
Paint when the house is empty (if possible): an empty house gives more flexibility to painters and can potentially spray.
Paint The Interior In the Winter: house painting is a seasonal business and scheduling during slow times can get you a huge cost savings.
Use lower cost paint products: labor takes up the majority of costs, however; you can still save money by using a less expensive paint. You want to be careful doing this though because most of the cheap paint is thin and doesn't spread very well requiring multiple coats and more labor.
Reduce the amount of prepwork before the estimate: repair holes, move furniture to the center of the room and make the job easy for the painters. Tell the estimator this before he / she provides you with a bid.
I wrote about each of these tips in detail in the article here.
Okay, so now that you have your estimate, let's take a look at the 9 paint colors to sell your house faster:
9 Best Neutral Paint Colors To Sell Your House Fast
In most cases people are looking for whites, grays or tans when selling a property.
These neutral colors allow the potential buyer to feel unbiased about the color and help them envision what the space might look like when they paint the area the colors they want.
With that in mind, here are 9 neutral paint colors that help sell properties fast:
#1 Agreeable Gray by Sherwin Williams:
Agreeable Gray is a gentle and subtle warm gray color from Sherwin Williams. Some people believe that it may be the most popular neutral paint color ever, given its popularity.
Another thing to keep in mind is that because of the brown undertones, so this gray appears to be "greige" than a true gray.
#2 Repose Gray by Sherwin Williams SW 7015
Repose Gray by Sherwin Williams (SW 7015) is a warm gray neutral paint color great for almost every color palette. It has some green and taupe undertones, making it appear gray without feeling cold. It's one of our favorite paint hues!
Classic Grey by Benjamin Moore OC-23
Classic Gray by Benjamin Moore is one of our go-to paint colors for people selling their home. Not only does this grey look amazing, it's very subtle and almost white.
Classic gray provides that breath of fresh air and warmth to any space. It looks best with a clean, pure white trim.
#3 Thin Ice by Glidden:
Thin Ice is a soft, cool, icy gray with a gray-blue undertone. It is a perfect paint color for a living room space. Pair it with pops of color to create visual interest.
If you are going on the budget friendly side, Glidden Premium is a decent paint to prepare for resale.
Thin Ice is one of my favorite grays. It's soft, cool, icy gray with a gray-blue undertone. It is a perfect paint color for a living room space. Pair it with pops of color to create visual interest.
#4 SilverDrop by Behr – 790C-2
Silver Drop is a warm gray with warm undertones. It has the appearance of being almost white but looks fantastic with every color including white.
Something to keep in mind is that the color changes significantly in different spaces depending on your lighting.
#5 Alabaster by Sherwin Williams SW 7008
Alabaster helps to provide personal comfort and renewal to weary minds. Alabaster is a simple and important transition to mindfulness, well-being, and an environment that is pure and simple.
Alabaster has beige undertones. They're not too cool, but also not too warm. Basically, it's the ideal blend of both warm and cool, which is why Alabaster is such a popular color choice among many designers and homeowners alike.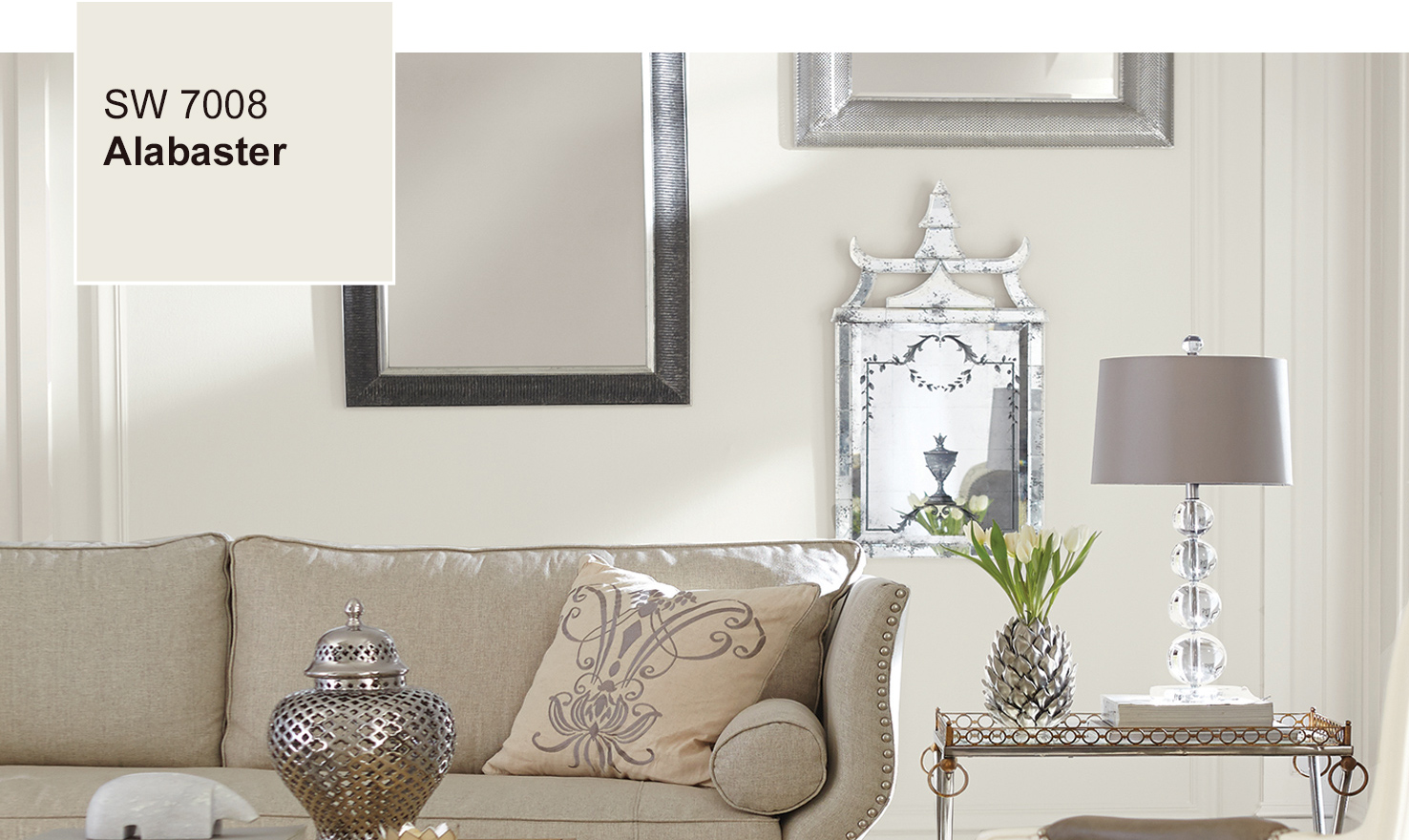 #6 Extra White by Sherwin Williams SW 7006
Extra White is a stark white paint color with deep neutral undertones. It's primarily a wonderful white paint for the trims and ceilings, allowing your wall paint to stand out and add dimension.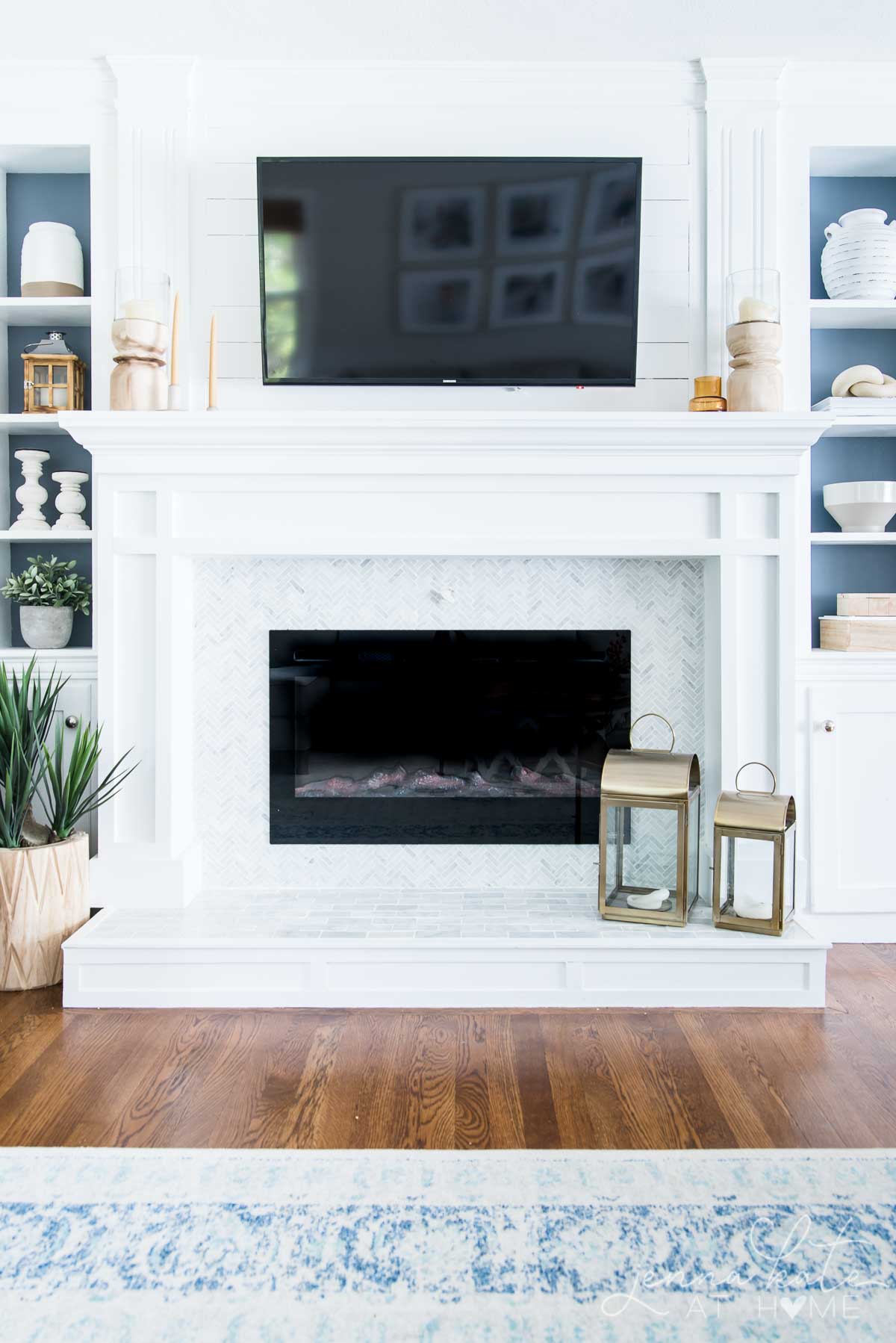 #7 Simply White by Benjamin Moore – OC-117
Simply White by Benjamin Moore is a warm white paint color with a yellow undertone, making it a rather interesting hue. This undertone can be very subtle at times and more like a genuine white when paired with a cold tone, but when combined with another cool tone, it may become more apparent.
#8 Polar Behr by Behr
Another fan favorite white paint color is Polar Bear. This is less of a creamy white and more of a milky white. It's very crisp and clean white. If you need any decor inspiration just check out this home. Her whole home is painted Polar Bear by Behr and it's gorgeous.
Simple & Free Way To Get Professional Color Consulting Help
If you are still unsure as to what color you want to paint your home before selling, consider scheduling a color consultation with us.
We offer a virtual experience and we can actually paint the colors on your house virtually so you can see what it may look like.
Schedule a time with us or get your house painted with one of our Vetted Painters by submitting a request here.
Concluding Thoughts
I hope you found at least one of these tips useful.
Do you have any suggestions for colors best for selling a home?
Let us know in the comments!